General Operation Flow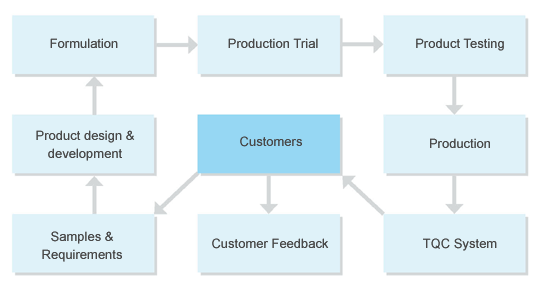 Our Sales & Marketing team first analyzes requirements of customers taking into account the latest market trend for development the most appropriate marketing strategy..

Our Technology team will take into consideration the raw materials samples(with functionality and applicability details) provided by suppliers and the customers' requirements provided by the Sales & Marketing team to develop the best formulation of the product.

Our Production team then runs a trial production with this new formulation, coupled with a complete testing process before commencement of mass production.

Our Quality Control team will final check production using TQC (total quality control) system before delivery of finished products to customers. TQC system involves testing, experiment, process monitor and measurement.

Our Customers Feedback is highly valued by us, we always closely communicate with customers to ensure the delivery of highest quality products and services.